Integrated Community Based Initiatives (ICOBI) is an indigenous non‐governmental, non‐profit making, non‐denominational, charitable organization founded in 1994. The Organization was first registered with the NGO Board of Uganda in 1996 (Reg. No 5914/1562 and Certificate No 1444). ICOBI is governed according to its Constitution, Articles and Memorandum of Association. It has a membership of 490 and an Executive Board composed of 7 people chaired by an Executive Board Chairperson. It has a secretariat consisting currently of full‐time paid employees (71) as well as volunteers (over 130) headed by the Executive Director. The main goal of the organization is the attainment of better standards of living and prosperity for rural people. Our
vision is Healthy and Prosperous Families
and the
mission is to improve the quality
of life of people through holistic and sustainable programs that meet the basic human needs of
families.
ICOBI has implemented and continues to implement a number of programs and projects at different levels and with different but highly focused themes e.g. Advocacy for better Health, Health Service Provision, Health Systems Strengthening, Operations Research as well as Policy and Guideline Formulation. ICOBI has since 1999 advocated for provision and support for Adolescent health, MCH/Family Planning, STD/HIV/AIDS, malaria and nutrition with support from Brush Foundation and Marie Stopes Uganda. ICOBI has also been actively advocating for an HIV free generation through community PMTCT programs in Ankole region (SW Uganda districts) supported by the Centers for Disease Control and Prevention (CDC). A number of projects with service provision as a major component continue to be effected. These include the first ever District wide home to home HCT in greater Bushenyi Districts and later central Uganda Districts supported by CDC in 2004‐2007 and 2008‐2012 respectively. ICOBI also with support from USAID has been providing comprehensive OVC support to 19,000 children in Bushenyi and Mbarara Districts. ICOBI is also currently providing HCT services under the USAID supported Kampala Good Life Integrated Counseling and Testing Project in Kampala city. ICOBI has strengthened the Uganda's Health Systems through training of frontline health workers in Comprehensive HIV/AIDS Management, STI diagnosis and Management, Couple counseling and pediatric counseling services with support from Global Fund round 7. ICOBI has also recently trained all technical District officers from 34 Districts of SW and Central Uganda in Monitoring and Evaluation of Health programs also supported by the Global Fund. ICOBI is participating in the current USAID‐SUSTAIN Project aimed at strengthening health systems for HIV/AIDS treatment at national level where we are at all 12 Uganda regional referral hospitals and 4 district hospitals facilitating community linkages in 22 districts. To improve its programs and share best practices, ICOBI implements operational research on HIV/AIDS prevention, specifically electronic platforms for linkage and referral, and other community Linkage strategies to care using evidence based approaches and new technology. ICOBI with support from the University of Washington (Seattle) applies the use of mobile phones in enrolling and following up of study participants and results are shared with the Ministry of Health to guide policy formulation. As a registered HMO, ICOBI is among the first organizations to pioneer and pilot community health insurance services and now covers 3 districts of Sheema, Rukungiri and Luwero.
ICOBI's competencies have been demonstrated in facilitating access to and sustainability of better health programs and services at community level through designing and implementing relevant programs geared towards prevention and control of infectious diseases and eradication or mitigation of rural household poverty. The latter include HIV, Tuberculosis and Malaria, Maternal and Child Health including Family Planning, Nutrition and Food Security, orphans vulnerable women and children (OVC), operational research, community health insurance and programs geared toward poverty eradication in rural communities. ICOBI does all this working with like‐minded international and local partners (public, private and civil society) through the application of the basic principles of public and private partnerships.
Senior Management
ICOBI has a senior management team who meet regularly to oversee the organisation, review performance reports against the projects and strategic plans, and approve innovations and future actions. It consists of the Executive Director and the senior people in finance, HR, and Project development and operations.  The senior management team lead the organisation in strategy, planning, implementation, operations, reporting, direction, staff and individual performance, financial control and resource allocation.
The team include;
Executive Director: Dr. Stephen Asiimwe (MBChB, MS, DrPH)
Financial Controller: Silvanus Ahaisibwe (MBA, BSc. ACCA, CPA)
Human Resource & Administration Manager: Noel Mwebaze (MHRM, PGD, BASS)
Deputy Executive Director in Charge of Programmes: Boniface Mutatina (BSc, MSc. Clinical Epidemiology and Biostatistics, PhD Fellow)
Communications Officer: Rwebiita Atucungwire (MA,BA, MakSPH-CDC Fellow)
DoART Research Coordinator: Bosco Turyamureeba (MPH, BA)
ICOBI is governed by a Board of Trustees which is responsible for the overall governance issues and policy formulation in the organization and is mandated to perform tasks as prescribed by the constitution.
Members:
Elioda Tumwesigye
Dennis Nduhura
Deborah Mwesigye
Ruth Sande
Bernard Mwijuke
ICOBI currently operates in all regions of Uganda but is more concetrated in the South-Western and Central parts of the country. As a national NGO, it is in plan to scale up its activities to all regions of the country with continued support from development partners. This will be made possible by the unique approach that ICOBI employs to implement community-focused projects which have been proven to have a lot of impact on the majority of target beneficiaries.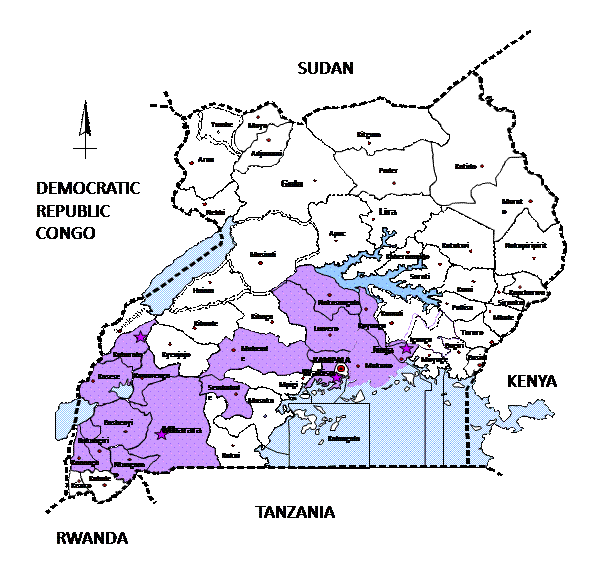 Head Office:
 Plot 66, Ismail Road, Mbuya Kampala.
Western Regional Office: Kabwohe town along Mbarara- Ishaka – Kasese highway
Other Offices: We have Liason offices in the following districts:
Isingiro
Rukungiri
Kabale
Kiruhura
Bushenyi
Jinja (Buwenge Town)
ICOBI is among the first organizations' in Uganda and specifically in Bushenyi District to pioneer Community Health Insurance Schemes in partnership with Bushenyi Medical Centre (BMC) in 1999. ICOBI at that time designed a school health insurance scheme package with Bushenyi Medical Centre as health provider for students in post primary schools in Greater Bushenyi District. To mobilize and increase enrollment, this program introduced the first ever radio program on health matters every Sunday from 4:00‐5:00pm on Radio West in South Western Uganda in November,1999 called the
triple S show
i.e. Stay Safe and Smart. This School Health Insurance scheme in which every pupil paid UGX 3500 per term for her or his health needs covered 22 schools with over 20,000 pupils enrolled and was later in 2005 taken over by Bushenyi Medical Centre being a facility based organization.
In 2008, ICOBI started a Health Insurance Scheme for orphans and other vulnerable children with support from USAID under a three year USAID grant for Orphans and other Vulnerable Children in greater Bushenyi districts and Mbarara District. ICOBI partnered with Mbarara Community Hospital and Bushenyi Medical Centre to provide health care to all children through a health insurance model. In the same year ICOBI also started providing health insurance benefits to the staff members and their dependents at various health facilities in both Mbarara and Bushenyi greater Districts. ICOBI has since 2010 been providing health insurance services to all staff at various private providers including Mayanja Memorial Hospital, Mbarara Community Hospital, Kabwohe Clinical Research Centre (KCRC) and Bushenyi Medical Centre (BMC).
In December 2013 ICOBI was officially registered and recognized as a Health Membership Organization (HMO), licensed to offer community health services by the Insurance Regulatory Authority (IRA). In early 2014 ICOBI designed a low cost health insurance product for the rural low income earners people, also called ICOCARE which targets the community members like in the ICOBI initiated SILC/VSLA groups. This scheme began in Sheema as a pilot but was extended to Rukungiri and Luwero districts through a seed grant from CARE Uganda Limited, under the USAID supported SCORE Project. This project is however winding down at a time when the momentum to increase coverage and enrollments were beginning to pick‐up. This grant would therefore be implemented swiftly and provide key lessons to scale‐up countrywide.
Vision
The vision of the 5-year strategic plan is to have sustainable programs that will contribute to health and prosperous families
Mission statement
To develop and implement holistic and sustainable programs that contributes to the achievement of the Millennium Development Goals (MDGs)
Goal
To deliver integrated, holistic and sustainable services to the targeted communities or population
The Strategic Objectives
Over the next five years (2011-2015), ICOBI will implement interventions/activities under broad objectives outlined below;
To contribute to the reduction of new infections due to HIV, TB and Malaria in supported communities by the year 2015.
To increase the scale of effective program interventions that reach MVC and their households by the year 2015
To contribute towards the reduction of mortality rate for women and children during pregnancy and child delivery by the year 2015.
To empower communities in reducing the current environmental degradation and water shortage through sustainable utilization of land resources and waste disposal management.
To add to the stock of knowledge and best practices in the social development sector through undertaking operational and scientific research.
To enhance the capacity of ICOBI, communities and sub-partner agencies to deliver integrated, equitable and quality services by end of five years.