Integrated Community Based Initiatives-ICOBI is working as a sub grantee under the USAID/Uganda Family Planning Activity-FPA under Pathfinder international as the Prime. ICOBI is implementing community demand creation as well as creating positive social norms towards modern contraceptive methods in Kiryandongo District in the Albertine region.
The goal of USAID/Uganda FPA is to support Government of Uganda to increase adoption of positive reproductive health (RH) behaviors among Ugandan women, men, and young people and contribute to long-term shifts in Uganda's modern contraceptive prevalence rate (mCPR) and fertility rate by 2025 in 11 focus districts of Buliisa, Bundibugyo Butambala, Gomba, Kibaale, Kiryandongo, Kyankwanzi, Kyegegwa, Kyenjojo, Ntoroko, and Rakai.
The USAID/Uganda FPA seeks to create a favorable policy and financing environment to increase access to family planning by strengthening leadership and coordination that will result in a strong health system with accountable leadership, sustainable financing and innovations for demand generation, service delivery, capable health workforce, functional supply chains and information system management.
In order to achieve the Family Planning Activity targets, ICOBI is implementing activities under the key objectives below;
Objective 1. To implement family planning interventions at the community level aimed at increasing awareness and creating demand for services in Kiryandongo District
Objective 2: To provide voluntary family planning counselling and FP alternatives within the mandate of ICOBI like condom distribution, contraceptive pills, Contraceptive injectable-Depo Provera and other fertility awareness methods
Objective 3: To establish and functionalize community – facility linkages, increase access to long term and permanent FP methods as well as manage of side effects with support from the nearest heath centers in Kiryandongo District.
ICOBI works with the existing health system under the District Local Government especially public health facilities as well as community structures mainly the VHT system, community leaders, youth's champions and other community groups.
The main activities being implemented by ICOBI include integrated outreaches, dialogue meetings for men, women, parents and youths, radio program, home visits by VHTs as well small group meetings and health education sessions on Family Planning services. Currently ICOBI is covering 6 sub counties in Kiryandongo out of 8 and these are Masindi Port, Kiryandongo T/C, Kigumba T/C, Bweyale T/C,  Mutunda sub county and Kiryandongo s/c.
Activities
ICOBI has designed audience segmentation and planned interventions to reach different population groups
a. Integrated outreaches, In order to increase access and uptake of Family Planning services in Kiryandongo District, ICOBI is working with health facilities in target sub counties to hold integrated Reproductive health outreaches. VHTs and youths champions are engaged in mobilization for these outreaches and also provide guidance on sites where women can be reached especially those from distant communities. Services provided include Family planning health education sessions, short term and long-term methods, immunization services, HIV testing and counseling services among others
Below is an outreach of ICOBI team with Kiryandongo Hospital team in Mutunda Sub County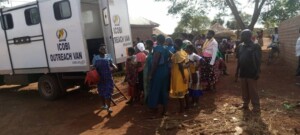 In the picture above, women are accessing short and long-term FP methods form health workers inside the van.
b. Dialogue meetings for men, women and adolescents as well as intergenerational seminars and parent seminars. ICOBI team in Kiryandongo is working with VHTs, Religious and cultural leaders to organize dialogue meetings in the community to address social norms that hinder FP uptake.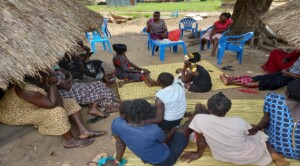 ICOBI is supporting dialogue meetings on Family Planning Services
c. Intergenerational dialogue meetings, ICOBI is holding intergenerational dialogue meetings combining adolescents and parents to open up discussions on FP at family and community levels. This is to help address social cultural norms and values that affect utilization of modern FP services in Kiryandongo district.
d. Radio talk shows on reproductive health services, ICOBI is working with Pathfinder team to organize monthly radio talk shows in Kiryandongo District. Currently talkshows are being held at Kiryandongo FM based in Kiryandongo T/C. A number of languages are used in each show to address the different tribal and multilinguistic composition of the district.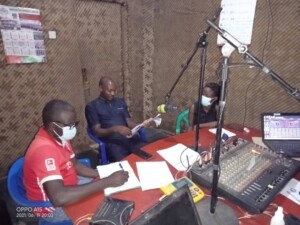 Radio talkshows at Kiryandongo FM FP methods and services under FPA
e. Heath education sessions during outreaches, ICOBI is holding health education sessions during integrated outreaches to provide more information on Family planning, addressing myths and misconceptions among mothers and also responding to side effects reported. This seems to be very useful as some mothers seem to have no one to respond to their issues especially those from very distant villages away from the available health facilities.
f. Interpersonal communication, ICOBI is engaging community members especially men in interpersonal communication discussions to ensure they become champions of Family Planning services in Kiryandongo district.
g. Home visiting, ICOBI plans to engage staff and community mobilisers in home visits targeting reproductive age groups and counselling them on Family Planning methods and services. This will address GBV and need for FP service utilization, address barriers at household level, clarify myths and misconceptions and also provide referrals for FP accordingly.